---
What is a One Hitter? A one-hitter is a small pipe (sometimes called a "bat" or "chillum") that, as the name suggests, holds about one hit of cannabis. Whether you want to smoke weed while travel or you want a quick, small hit of their favorite flower, these pipes are the perfect match to get a quick and subtle hit. Besides, stoners love these pipes because they are discreet smoke accessories.
In today's world of smoking weed, there are all types of one-hitters, coming in different materials, such as ceramic, metal, or glass. Which one is the perfect one, you may be asking? Well, actually it all depends on you and what you are looking for in a one-hitter pipe. When buying a one hitter there are quite a few factors to consider.
Types of One Hitter
---
First off you need to take a look at this never-ending market of smoking weed and decide what kind of one hitter pipe will suit your needs the best. In the grand scheme of things one hitter break down into 3 separate groups:
Ceramic One Hitter
Glass One Hitter
Metal One Hitter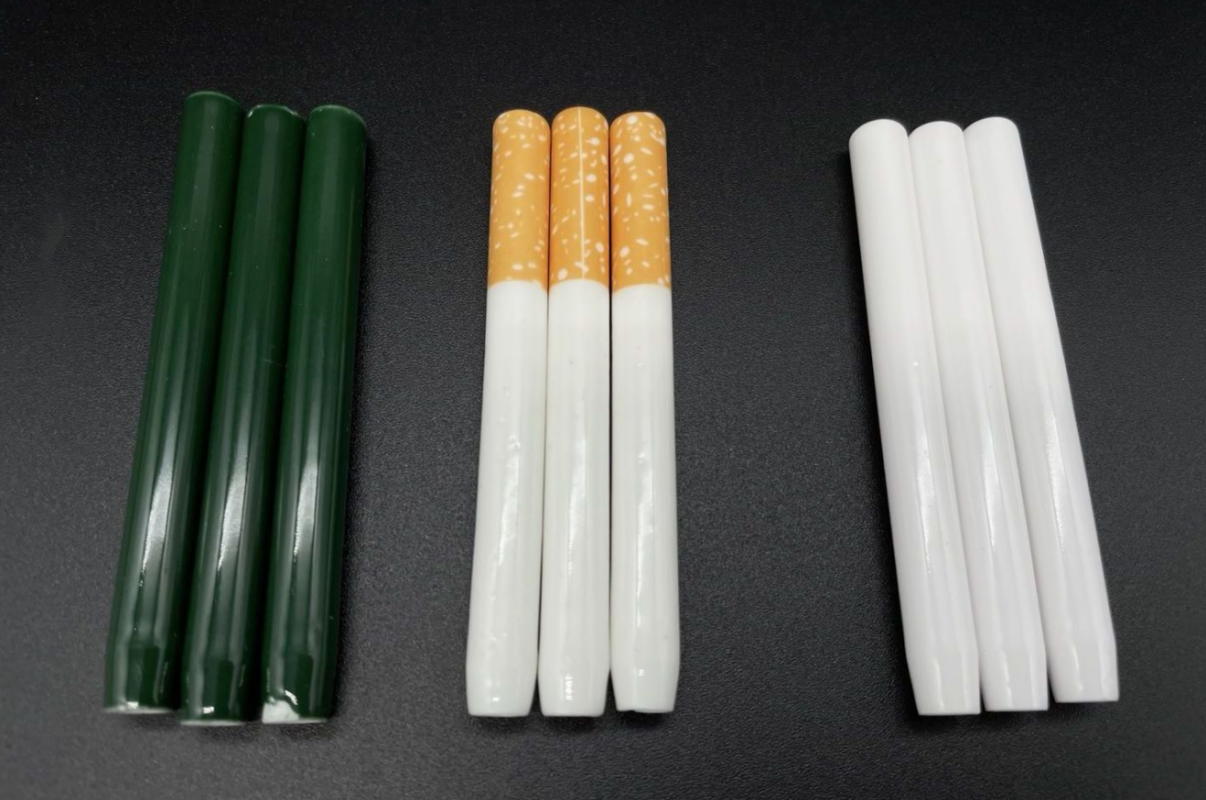 The ceramic one hitter is usually made of durable earthenware materials. And some of them have the appearance of cigarettes therefore also called ceramic cigarette one hitter.
There are lots of smokers who prefer ceramic bat over metal bat this is because ceramic bat delivers a cool consistent burn, tasteless metallic so that ceramic bats are more healthy for stoners.
Besides, the ceramic pipes are simple to clean and stays cleaner longer due to cool burn. The ceramic pipe does not transfer heat quickly, so it will not get as hot when smoked, and by this make sure heat doesn't radiate to burn your fingers or lips.
A ceramic pipe is usually 3 inches in length and very lightweight, perfectly fit for the wood dugout. You can pack it up easily in the pocket and purse, which is awesome for when you want to get one or two hits while on the go.
A glass pipe is made with borosilicate glass to ensure a smooth and quality hit.
When you smoke with the glass pipe, it will not leave a metal taste in your mouth, you can enjoy the full flavor of higher grade tobacco and cannabis.
A glass pipe is designed with an inner tiny hole, you don't need to worry about the tobacco ash when you lighting up, at the same time, you can get the filter screen for it.
And the glass pipe gets hot not that quickly, and the 3 inches length is conveniently pocket-sized so that you can smoke on the go.
A glass pipe is perfect for experiencing a clear and rich hit when smoking. As the glass is clear, so for cleaning it will be easier by the cleaning brush.
A metal pipe is awesome if you want to have a hit on the go because you don't have to fear that the metal tube will be damaged or break in your pocket or purse.
Also, a metal bat will stop burning usually when you stop fighting and hitting. For those who want to smoke discretely, the metal bat gives the appearance of smoking a regular cigarette.
The metal pipe can be reused many times so that you can fully enjoy the hit without worrying about your money.
How to Use A One Hitter
---
Step 1: Simply ground your dry herbs up and load them up in the opening end.
Step 2: Place the mouthpiece end against your lips and pull gently while lighting the cannabis at the end of the pipe.
Step 3: Inhale slowly, hold and release.
How to Clean A One Hitter
---
Solution 1: Go to the local smoke shop to buy alcohol, perfume and detergent (soap).
Solution 2: Make your own cleaning solutions easily at home.
1. Put the pipe into a Ziploc baggy or a sandwich bag
2. Add enough alcohol to submerge the pipe
3. Add a few teaspoons of salt to help dislodge the gooey residue
4. Seal the bag and let sit for 10 to 15 minutes then shake
5. Repeat if needed – the alcohol will become black the first time.
6. Rinse with hot water and allow to dry.
Then your pipe is clean.
Solution 3: Use the cleaning rod(poker) or cleaning brush. And every One Hitter Pipe order from MJDK SHOP comes with a cleaning rod(poker) or cleaning brush.